Radio Monitoring Streamer
Back
Radio Monitoring Streamer
RMS FM monitoring, compliance recording, retranslation and streaming
RMS is a professional radio station automation software designed for multi-channel FM RF monitoring, compliance recording, retransmission, and internet streaming. With a user-friendly and convenient web interface, this robust radio automation system can be used to monitor and measure FM RF signals, conduct real-time analysis, and manage your FM broadcast facilities from anywhere.
RMS's capabilities extend beyond traditional broadcast systems. Many radio station operators use it for receiving multiple FM channels over the airwaves and rebroadcasting them via internet streaming, making it an indispensable tool in modern broadcasting and reaching a wider audience.
Managing radio channels—especially multiple ones—comes with its own set of challenges, often requiring dedicated radio management software. Monitoring can be needed at the primary radio station or in remote geographic locations to assess signal quality and reach. RMS can tune into up to 16 FM RF channels, providing detailed RF analysis and the ability to encode and restream channels via IP. This empowers station managers with the flexibility to manage their playlists and channels remotely.
Stream your FM radio channels effortlessly to Telestrider's StratoView monitoring platform for compliance recording. With a setup and installation process that is straightforward and takes less than 10 minutes, RMS is the go-to radio automation solution for production professionals.
Key features
Operating Range: FM, VHF with polar modulation and pilot signal
Number of monitoring channels: Multi-channel support for 4/8/12/16 stations
Front panel analog audio monitor output, 3.5 mm Jack
REST API for remote server management, alarms, and polling
Web-interface for seamless radio station management
Fully integrated with StratoView Monitoring and Compliance recording
Ability to receive and decode RDS
Pilot signal presence indicator
Key metrics: Measure full level KSS, Signal to noise ratio (dB), Interference detection (in % 0-100)
Multi-channel setup manager for automatic or manual frequency slot configuration
Internal non-volatile memory (NVRAM) for playlist and system settings storage
Standard 19" 1 RU rack mountable for broadcasting systems
Streaming:
RMS offers robust streaming capabilities into IP networks for up to 16 stereo broadcast channels. Depending on the device version—4/8/12 or 16 channels—RMS takes care of encoding and audio compression, with bitrate flexibility. Access all signal parameters via the dashboard interface, which is remotely accessible through a web interface
Use Cases:
Radio station FM RF Monitoring and Streaming (both on-site and off-site)
Compliance and audit organizations using professional broadcasting software
Compliance recording in radio production
Part of a distributed monitoring network for remote stations
Gateway solution for FM broadcast signals for rebroadcast over internet streaming
Ideal for large sailing vessels and cruise ships for FM-to-IP audio streaming
Architecture
Architecture
Radio signals are received via a feeder antenna (not included) and supplied to the RMS's RF input port. Internally, these signals are routed to a splitter, then to multiple receiver modules. Each module contains 4 RF receivers, and the number of modules installed determines the device's multi-channel capabilities.
These receiver modules amplify, demodulate, and decode the received FM signals, offering real-time monitoring and measurements. Any signal can be routed to the front-panel monitoring output. RMS's onboard processor controls and manages all signals and provides an integrated web interface for station managers.
RMS supports live streaming over IP networks for up to 16 stereo broadcast channels. Depending on the device version, RMS performs the encoding and audio compression with adjustable bitrates. All essential parameters can be viewed through a dashboard interface, which is remotely accessible via a web interface.
By integrating the aforementioned features and capabilities, RMS stands as a comprehensive solution for managing a digital radio station's needs, from scheduling to streaming.
FRONTAL VIEW

FRONTAL VIEW
The front panel has a power button, an operating status indicator and an audio monitoring connector (3.5 mm Jack). The device case is rack mountable in a standard 19" rack.
REAR VIEW

REAR VIEW
On the rear panel there is a 220V power connector, an RJ45 connector for the Ethernet port and an RF connector for the feeder antenna.
WEB USER INTERFACE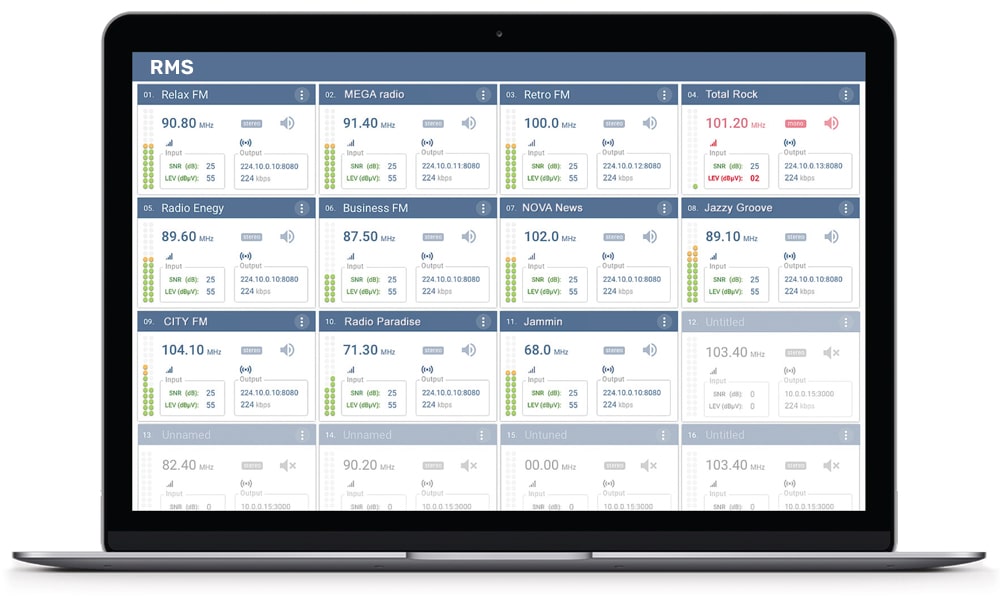 WEB USER INTERFACE
RMS can be accessed and configured through the web interface, which is accessible via any standard web browser. The screenshot displays the main monitoring window. This summary view displays the main parameters for each channel. Each window displays data on: frequency, signal level, station name, signal-to-noise ratio, sound level, pilot signal presence indicator, scroll with live RDS text, streaming parameters and monitor port output.
Technical Specifications
Input(RF)
Frequency Range MHz 64-108 MHz
Tuning increments 10 KHz
SNR sensitivity 26 dB, no worse than μV 3.5
Input impedance 4 kΩ
Input capacitance 5 pF
Adjacent channel selectivity ±200kHz 50 dB
Amplitude modulation suppression Mmax=0.3 40 dB
Supported Streaming Formats:
AAC compression (ISO/IEC 13808-7)
CBR or VBR
Mono-Stereo and joint stereo modes
UDP, Multicast (RFC 5771)
Audio predistortion range 50 or 75μs
Frequency range at -3 dB 30-15000 Hz
Right and left channel separation, no worse than 35 dB
Right and left channel balancing accuracy 1 dB
SNR (Mono), no worse than 58 (55) dB
Antenna interface IE61169-2, 75 ohm
Management interface RJ-45, Ethernet
User interface Built-in webserver
Management protocol SNMPv2
Output interface RJ-45, Ethernet
Output formats UDP, multicast, unicast, IGMPv2, IGMPv3
Audio sound monitor output RCA, 0 dB, 600 ohm
Overall dimensions (H*W*D) 1U, 19" rack 44x482x250 mm
Operating temperature range 5-40 ⁰С
Weight 2 Kg
Power supply voltage 220 V
Power consumption 10 W